Please.

Do not force me to listen to a teen sexuality seminar with a Catholic conservative as the speaker.
But well, when you are supposed to be with your students, there isn't really much thing for you to do but to fucking bear with all the shit the person has been saying.
I wasn't really able to listen to the seminar from start to finish, more like I was only able to see its middle. But anyway, the part where I am already with my students made me use my brains again. I have been taking notes while the speaker has been babbling about safe and so-called "saved" sex, homosexuality, contraception, RH bill, and abortion. And I have to admit that if I am going to give my students an alternative point on the views presented not only by the speaker but also by their school, then I really have to do my homework. And that includes being discreet about it.
As much as I want to, I didn't finish watching the seminar, as my period with the class that I am accompanying already ended. But I was able to scrape very yummy topics that I planned to discuss with them the next day.
Here it is:
"What is morality?"
"What should be our standards of morality?"
"Who/What should tell us what is moral?"
"Is there even such a thing as morality?"
"Is it fair to call gays sinners?"
"Why is the youth turning on to media for information about sex?"
"When does life begin?"
"What really is sanctity of life?"
I asked these 14-year olds whether there was any of their teachers who tried to process the things that they learned in the seminar. A resounding no. I also asked them if they took down notes or questions. Again, a resounding no. Well, the latter didn't surprise me at all, because they were just in that seminar so there would be no classes, and besides, it's not like the priests are dating them for their brains anyway, so I started with my discussion.
First question: Is it fair to call gays sinners?
Well, most of them said, that it is not fair to call gays sinners (and I really thank them for thinking so, at least they can sense that sometimes, their religion is bullshitting them about gays). What made these church people think that these gays are sinners? One brave boy told the class that there is nothing intrinsically wrong with being a gay, the issue of the church with gay people is that man and woman were created for the opposite sex. I told them that gays eat, sleep, drink, walk, buy medicine from a drugstore and so as with straight people. So what's wrong with being gay?
Second: What should be our standards of morality?
This has been a gray area for them, they can't say anything because they are young, and I can't say anything too provocative either. So I let them decide. Thankfully, there was another brave boy who contributed to the discussion that there shouldn't be any standards because what is immoral to one might be just fine for another. A dangerous relativist in the making, I thought. But I told them that morality shouldn't be based on scriptures or doctrinal moral prescriptions and that they should adhere to the universal virtues.
So far, I was succeeding in taking my real perspective undercover while feeding these students the other side of the coin.
Third: Why is the youth turning to media for information about sex?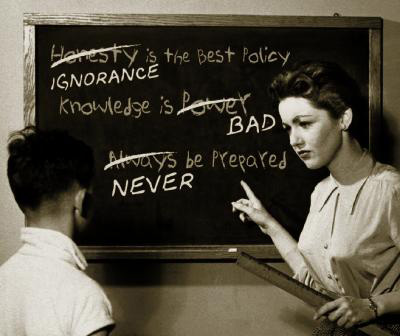 If my memory doesn't fail me, nobody was able to answer this. But I asked them again if their parents talk about them about sex. Again, a no, but one student was cocky enough to say sometimes. Anyway, whenever I meet parents and ask them if they talk to their children about sex, well, they always answer me with a smile and a shake of the head which is natural, given that sex is a taboo topic, and here in this place, teen sexuality is a kitsch. And asking these students if their school gives them enough information about sex is out of the question, they are in a Catholic school, so by default, nothing about sex.
So I asked them, "No info about sex at home and nothing in school. Where would you go?" Media came as the answer. And I added, "Of course, also from your friends, whose knowledge of sex may be faulty enough to get you into trouble."
This is where I inserted the debate about the RH bill. I told them that we cannot blame the State for doing its job, it is only providing basic services. And that basic service is health. Specifically, the State is targeting health of the mother who spends more energy in producing offsprings. The State knows that the youth and the general public do not have the information that will help them about sex, there is nothing in their homes, there is nothing in the schools, and that is where State enters the picture.
Of course, I also have to criticize the Church, so I added, "If these religious people are so against sex education in schools, why not FORCE the parents to talk to their children about sex in the first place? That would lessen their stress." I told them to require their parents to talk to them about sex, its only a matter of choice between their parents and the erroneous depiction of sex in the media. Choose. If they wouldn't be able to get it from their parents; they wouldn't get it anywhere.
Fourth: When does life begin?
These students are very factual, so they told me that for the Pro-RH bill people, life begins at implantation while for the Anti-RH people, life begins in fertilization. I told them that I believe neither and that the two sides are actually pieces of bullshit. If these people are saying that we can pinpoint when life begins, then there is something wrong with our bodies. Imagine this, if life begins in fertilization, then it means that the egg cell and the sperm cell aren't alive! And if they aren't alive, then there is something wrong with our bodies! How come that something that doesn't have a life actually resides in a breathing human body? It's like saying that the DVD player is working fine, except for its laser reader. I argued that we can never pinpoint when life begins. Their lives where passed on to them by their parents which they received from their own parents and so on and so forth. Life, therefore, is a continuous process. It goes on and on and on.
Fifth: What is sanctity of life?
For them, this concept means that we should respect human life and we shouldn't go killing an unborn child.
Okay. So I argued that this concept is subjective and in using this concept, I could argue that all of us there in that classroom are murderers.
They agreed that their sperm and egg cells have lives.
So, by extension, the girls, by virtue of menstruation, flush down the toilet a single life every month. And the boys kill 299,999,999 lives in a single moment of ejaculation.
And if we are going to be really consistent with this concept of "sanctity of life", why doesn't it apply to cockroaches? We spray Baygon on them. Why doesn't it apply to rats? We feed them Racumin. Why don't we feel guilt whenever we kill these creatures and to think that, to use their language, they are also "God's creation"?
Therefore, I concluded that we are all murderers in that classroom.
I checked if they were comfortable with what I have been discussing, and they said yes. Though there was one who felt uncomfortable... Well, I took it as a compliment, for I knew that deep inside him, he knew that I was right and he was disturbed by that fact.
But then I asked who among them are in favor of the RH bill. No hands. Anti? Well, majority raised their hands. And I realized that, yes, I was able to make them see the other side of the coin and that they were pleased that I discussed it with them, but my one-hour discussion with them is not enough to break the beliefs that were indoctrinated to them by their school for the past 10-12 years.